Thursday, December 16, 1999
U.S. Doubted Gestapo Chief Died
By Jonathan D Salant
Associated Press Writer
WASHINGTON (AP) - Within a year after World War II ended, U.S. Army intelligence agents doubted reports that Gestapo chief Heinrich Müller had committed suicide, according to documents released Wednesday.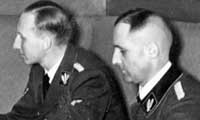 Müller, the head of the German secret police, has never been found, and remains one of just two big-name Nazi war crimes suspects still being sought.
The documents released by the National Archives include reports putting Müller in a variety of countries in the decades following the war, including Argentina, Czechoslovakia and Cuba.
"Müller has never been apprehended and no one knows his whereabouts," said Rabbi Marvin Hier, dean and founder of the Simon Wiesenthal Center, a Los Angeles-based center for Holocaust remembrance.
"Müller today is probably dead but nobody knows what happened. These documents indicate that it was the opinion of some elements of U.S. intelligence that he survived. History deserves a full accounting of what happened to him."
The Gestapo used terror, murder and mass arrests to enforce loyalty to the Nazi government and also ran the concentration camps where six million Jews died.
In 1946, Army intelligence reported that "no confirmation" of Müller's death could be found, despite rumors that he had killed himself, his wife and three children, according to the documents.
That same year, the Army received rumors that Müller had fled Berlin, possibly through the same secret tunnel as Adolf Eichmann, who oversaw the deportation and murder of Jews and promoted the use of gas chambers in the concentration camps. Eichmann was kidnapped in Argentina in 1960 by Israeli agents and brought to Israel, where he was hanged.
In July 1960, one Army intelligence report concluded: "It is more likely that at the end of the war, Müller fled and now lives either inside or outside Germany under a false name." A year later, his former mistress told agents that it was possible he survived the fall of Nazi Germany.
Between 1946 and 1963, various reports had Müller working for security forces in Soviet Union, Czechoslovakia or Argentina, according to the files from the U.S. Army Intelligence Command at Fort Meade, Md.
In March 1951, for example, intelligence agents reported that "convincing facts" put Müller in Czechoslovakia, where he was directing intelligence activities for the Soviet Union against the United States in Germany.
A month earlier, another report had him training and organizing the security police in communist Czechoslovakia.
An informant reported in April 1955 that Müller was directing or helping intelligence efforts in the Soviet bloc. In 1961, two separate reports said he was continuing to work for Russian intelligence or security.
And a November 1963 report had him in Cuba, where he may have fled after the overthrow of Argentinean dictator Juan Peron. According to this report, Müller went to Argentina after 1945 and helped train the federal police force. Argentinean researchers reported last year on documents they said proved Peron encouraged fleeing Nazi war criminals to seek asylum in his country. The papers did not provide a list of who actually immigrated.
The theory that Müller fled to Argentina after World War II was buttressed in July 1995 when former Czechoslovak communist leader Rudolf Barak claimed his agents kidnapped him from Argentina in 1956 and turned him over to the KGB. The KGB claimed other Germans later killed Müller in a Russian prison.
The other top Nazi whose whereabouts are still unknown is Alois Brunner, commandant at the Drancy transit camp in France, where Jews were interned before being sent to the Auschwitz death camp.
Brunner, in his late 80s, is believed to be in Syria, which the government repeatedly has denied. His daughter has said that Brunner is dead.
Israel and the United States should demand a full accounting of Brunner's whereabouts from Syria during the current peace talks, Hier said.
"Part of making peace with your neighbors will be coming to terms with the fact that it is unacceptable to grant safe haven to one of the architects of the Final Solution," Hier said.

© Copyright 1999 Associated Press.