[Extract: copyright © Parforce UK Ltd, 1996]

AS the Soviet partisans intensified their deadly war that spring the security service (S.D.) reported that the culprits were the political commissars and the Jews. 'It has therefore proved necessary once again,' dictated Goebbels, 'to shoot more Jews... Any sentimentalism,' he continued, referring to a quality that did not abound in his heart, 'is out of place.'[1]
By now the two-month railroad log-jam was over and another train was being loaded with Jews marked for deportation. What might be their fate? On March 27, the day before this trainload left Berlin, Goebbels dictated an extraordinary, deadpan but spine-chilling entry into his diary which confirmed that he at least was now in little doubt.
Beginning with Lublin the Jews are now being deported eastward from the Government-General [former Poland]. The procedure is pretty barbaric, and one that beggars description, and there's not much left of the Jews. Broadly speaking one can probably say that sixty percent of them will have to be liquidated, while only forty percent can be put to work.
'The former gauleiter of Vienna,' he continued, referring to S.S. Brigadeführer Odilo Globocnik, S.S. and police chief of the Lublin District [right], 'who is carrying out this operation, is doing so pretty discreetly and also using a procedure that is not too blatant.'[2]
Goebbels added that the Jews had had it coming to them for a long time; he cited yet again Hitler's prophecy of 1939 [below], and the need to eschew all mawkish sentimentality. 'It's a life-and-death struggle between the Aryan race and the Jewish bacillus,' he concluded, unconsciously adopting Hitler's favourite analogy. 'Here too,' he dictated to his poker-faced stenographer, 'the Führer is the staunch champion and promoter of a radical solution.'[3]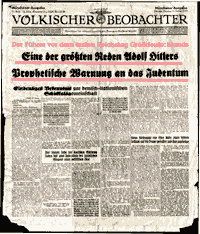 Nowhere do the diary's seventy thousand pages refer to an explicit order by Hitler for the murder of the Jews. (Perhaps this is not surprising, but for the sake of completeness it needs saying.) Goebbels instinctively couched every phrase of those diaries with both cunning and ambiguity.
The documents clearly show Hitler as the uncompromising architect of the plan to shunt all Europe's Jews out, failing Madagascar, to the east. The Polish ghettos emptied by this process would be replenished with Jews deported from the Reich. 'The Jews,' wrote Goebbels, 'have nothing to laugh about.'[4] They were having to pay dearly for the misdeeds of their brethren in Britain and America: such was his rationale. On March 28 he stipulated that they were no longer to be listed in telephone directories.[5] Why should they be? They were disappearing from the face of occupied Europe.

---