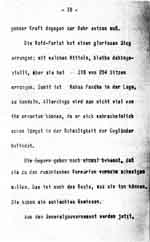 A famous page of the Goebbels diaries, in California, Koblenz, and Moscow: Goebbels comments on the liquidation of the Jews in occupied Poland.
Image on right: David Irving's pictures of the microfiches of the Goebbels diaries and the boxes in the Moscow archives before he opened them in 1992.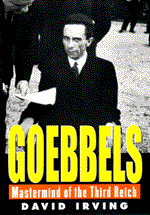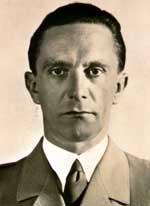 For details on the vendor please write to us.

Important private diaries and papers of Joseph Goebbels found
The François Genoud collection is now up for sale
WE ARE asked today to offer for sale all the truly private papers of the young Joseph Goebbels. They were once owned by the late François Genoud, a Swiss businessman who acquired literary rights to all the writings of Adolf Hitler, Martin Bormann, and Joseph Goebbels.
Genoud moved swiftly after WW2 and signed binding and legal contracts with their lawful heirs when he purchased the files from them.
This latest cache includes forty-six files with hundreds of pages of unknown diaries, literary works, and letters (and even locks of hair of his first girlfriend Anka Stalherm). The papers total about 3,200 pages, and occupy about 1.5 feet (50cm) of shelf space. The find throws an extraordinary light on the early years of Hitler's propaganda minister and evil genius, and on his brain, his education and intelligence.
---
CLICK FOR A COMPLETE LIST OF ALL THE ITEMS IN THIS EXTRAORDINARY FIND (PDF, 24KB) | CONTACT US
---
We would hope that an institution or person will purchase the entire collection, so that it remains intact for researchers. Otherwise it will be broken up and sold as individual items, "an alternative I find most upsetting," as the current owner writes.
---
"I TAKE it that I can reveal Genoud as the source? I knew him well, a good friend, and he provided me with exclusive access to his collections for my works on Hitler and Goebbels. I was sorry when he fell seriously ill and ultimately chose to take his own life. I have no doubt that this is a genuine and very important collection indeed. "
- David Irving, author of the first standard biography of Goebbels to be based on the diaries. He was the first to retrieve the diaries from the KGB archives in Moscow in 1992.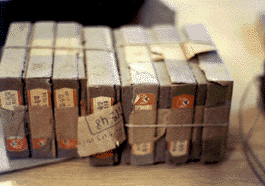 For details on the vendor please write to us.