[image added by this website, from David Irving: "Nuremberg, the Last Battle" ]

Bucks County Courier Times

Philadelphia, March 21 [?], 2003
Dispute over Nazi Papers lands in court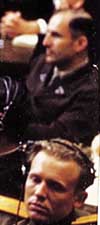 PHILADELPHIA (AP) -- The U.S. government asked a judge yesterday to decide who owns a trove of Nazi documents, seized from Germany after World War II, then later taken from the home of a renowned war crimes prosecutor after his death.
The papers, detailing Hitler's plans to subjugate the Soviet Union, were kept for decades by Robert M W Kempner, a German who fled to America before the war, then served (right) as a prosecutor of top Nazi officials during the Nuremberg trials, Kempner bequeathed all the documents in his possession to the United States Holocaust Memorial Museum but tens of thousands of pages vanished from his suburban Philadelphia home after his death in 1993.
Some wound up in the possession of William Martin, a Folcroft, Pa., man who operated a business hired to clean and empty Kempner's home. Martin voluntarily turned the papers over to the FBI in 2001 when agents began investigating the incident as a possible theft, but charges were never filed.
Now, Martin has asked for the papers to be returned, claiming he is the rightful owner, according to a Justice Department lawsuit filed m Philadelphia.
The Holocaust Memorial Museum has also laid claim to the documents, saying that Kempner's will should be honored, the suit said.
The Justice Department's suit takes no position on who is the rightful owner of the files, now sitting in an FBI evidence vault. Instead, the complaint asks a judge to decide their fate.
Martin didn't immediately return a message left at his home yesterday. Holocaust Memorial Museum spokesman Andrew Hollinger declined to immediately comment on the suit
The papers themselves are of significant historical value, Assistant U.S. Attorney Robert Goldman said.
The files include notes on meetings held at the German Armed Forces High Command, War Economy and Armament Office, and the plans for Germany to invade and plunder the Soviet Union.
After the war, they were among reams of Nazi documents used in prosecutions before the International Military Tribunal.
Kempner, who was a prosecutor and researcher for the United States Office of Chief of Counsel for War Crimes, had access to the records and kept many of them after the trials ended.
The case is one of two involving papers that disappeared from Kempner's home after his death.
In 1999, some of the prosecutor letters and personal notes were discovered in Lewiston, N.Y. Police said a publisher had convinced Kempner's elderly secretary to give him the papers. He also returned the records and was not charged.