3 July 93
Dear I.H.R.,
While reading The 'Confessions' of Kurt Gerstein by Henri Roques, I realized that there is a serious problem with the book's cover photo of Gerstein. Gerstein, in a typical period studio portrait, is shown wearing collar tab insignia (Kragenspiegel) which does not correlate with the time frame alleged.
The collar tab that Gerstein is wearing originated as the collar insignia for SS-Standarte 2 "Germania" of the SS-Verfügungstruppe (SS-VT).
At the end of 1939, the SS-V.T evolved into the Waffen-SS (W-SS). SS-Standarte 2 "Germania", now SS-Regiment "Germania", was attached to the new SS "V"-Division, later known as 2. SS-Panzer Division "Das Reich".
By mid May 1940, the "Germania" collar tab was discontinued and was replaced with the Siegrunen (double-rune) collar tab, minus the unit (Standarte) number 2. Nevertheless the old style collar tab continued to be worn, against regulations, by some officers and enlisted ranks and may even have been issued to deplete existing stocks, although the latter is unlikely. In any case, the old style collar tabs were only issued to the men of "Germania" and not to any other unit. After May 1940 wearing of the now non-regulation collar tab would have been short lived.
By the end of 1940 SS-Regt. "Germania" was transferred to the newly formed 5.SS-Division "Wiking".
Now Back to Kurt Gerstein. He joins the W-SS in March of 1941. The cover photo of Gerstein clearly shows (by the lack of any rank collar insignia, n.c.o. tresse or silver officer piping) that his rank is that of an SS-Mann (1939-1941 early W-SS rank designation) which is the equivalent to an American private.
The Runes Anomaly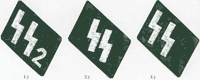 1. SS-Standarte 2."Germania", SS-VT, old style collar tab worn by Gerstein in photo.

2. W-SS Siegrunen collar tab which replaced the old style collar tab in May 1940. This is the collar tab Gerstein should be wearing.

3. Rarer modified old style SS-VT collar tab with the number removed to temporarily comply with the new regulations.

Therefore, it is highly unlikely that Private Gerstein, almost certainly still engaged in some form of training, would be issued discontinued collar insignia belonging to SS-Regt. "Germania", when it was formerly attached to the SS "V"-Division.

The W-SS simply did not allow privates, at this early stage of the war, (pre-operation "Barbarossa") to wear unofficial insignia, which furthermore represented a unit which no longer existed and to which he was never a member of.

It is highly probable that either the photo is not Gerstein, he or someone else lied about his entry date into the Waffen-SS, and or the record of the units in which he served were falsified.

Sincerely,
Eric Weisman

3950 Via Real #13

Carpinteria, CA 93013
---
Sources:
1.) Angolia, J.R. Cloth Insignia of the SS. R. James Bender Publishing, 1983.
2.) Bender, R.J. and Taylor, H.P. Uniforms. Organizations and History of the Waffen-SS., vol. 1. R. James Bender Publishing, 1969.
3.) Lucas, J. Das Reich. Arms and Armour Press, 1991.
4.) Mob, A. Uniforms of the SS, vols 3 & 6. Historical Research Unit, 1991.
5.) Strassner, P. European Volunteers. 5. SS-Pz. Div. "Wiking". J.J. Fedorowicz Publishing, 1988.