Alphabetical site index (text)

[Images added by this website]

The Christchurch Press
---
Christchurch, New Zealand, July 30, 2003
Husband Joel Hayward, not Joel Holocaust

Sir--Your newspaper has done a great service to my family by highlighting the cruel and unfair treatment of my husband, Joel Hayward, and by extension, all of us.
I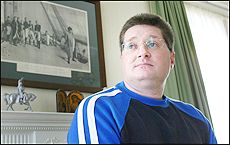 watched him emotionally collapse twice under the great burden of pain he carried, a burden he tried to shield me and our daughters from. I watched him come home, still unemployed, from jobs he thought he had been promised.
My husband never wanted to be anything but an academic. And he was very good at it, as his huge popularity with students attest.
So should we keep suffering as a family because of a heresy he supposedly committed 12 years ago?
Should our girls worry about their dad's morale when they come home from school every day? Should I feel ashamed of former friends who stopped calling?
Surely the answer to all these questions is an emphatic "no".
My husband is Joel Hayward, not Joel Holocaust.
(Mrs) KATHY HAYWARD
Palmerston North, July 28

Our dossier on the Joel Hayward case
July 2003, NZ Herald: "Holocaust thesis ruined my life says historian"
Report of the Working Party established by University of Canterbury to Inquire into Hayward Case | summary
Holocaust scholar at heart of 'book burning' row | 'Book-burners' feared libel suit