[Images added by this website]

Monday, September 22, 2003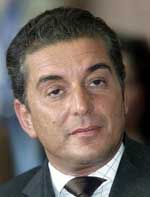 Germany's Jewish council elects replacement for disgraced former leader
By DPA
FRANKFURT, Germany - Germany's Central Council of Jews elected a new vice president yesterday, officially closing an embarrassing chapter involving a top-rated television talk show host and allegations of illicit drugs.
The council elected Frankfurt Jewish community leader Salomon Korn, 60, to succeed Michel Friedman, who stepped down in July amid allegations of cocaine use among callgirls with ties to eastern European organized crime.
In his first official remarks, Korn warned against a creeping rise in anti-Semitism in Germany, saying he feared up to 20 per cent of Germans might harbor anti-Semitic sentiments, albeit unconsciously. "Anti-Semitic thought unfortunately is not alien to some 15 to 20 per cent of the population," Korn said in remarks due to hit newsstands in today's editions of Die Welt newspaper.
"That represents 12 to 16 million people in Germany," he said. "Today's anti-Semitism is not the blatant evil that we suffered prior to 1945," he added. "But there is an alarming unwillingness among many non-Jews in this country to come to terms with the issue of German guilt and responsibility for the Holocaust."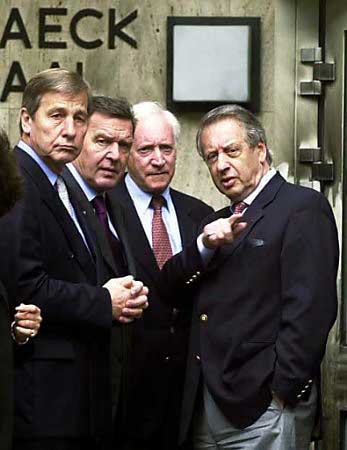 Friedman, a handsome and articulate 47-year-old media personality, was the best known Jewish leader in Germany when he was overtaken by the scandal earlier this year. His top-rated talk show - since canceled - was a showcase for his hard-nosed style of interviewing guests and his uncompromising stances on liberal issues.
Germany's Central Council of Jews was forced into the defensive by the investigation. Council President Paul Spiegel (far right, with Chancellor Schroeder and friends) sought to distance his organization from the almost daily revelations which dominated the news media for a month.
His reputation in tatters, Friedman issued an emotional public apology in July, saying he had agreed to pay a nearly $20,000 fine for cocaine possession.
Korn has headed the Frankfurt Jewish community since 1999.


Der Spiegel: Ironie des Schicksals (his lawyer sent fax to pizza baker)
Jewish council to decide VP's fate
Our dossier on the origins of anti-Semitism
Die Welt reports: Drogenrazzia bei Michel Friedman
Police find cocaine in German Jewish leader's flat
Amberger Zeitung: Ein guter Lehrer und ein Therapeut: Michael Friedmann sprach vor und mit GMG-Schülern: Der Frage der Schuld auf der Spur

Picture: Michel Friedmann speaks often at schools, lecturing pupils on right and wrong.